Best EVER Rice Krispie Treats. I'm always hesitant to say a recipe is the "best ever," especially for a dessert like Rice Krispie Treats that everyone knows and loves. We've perfected this The Best Ever Rice Krispie Treat Recipe over the years and it makes the best Rice Krispie Treats we've ever tasted! The Best rice krispie treats ever!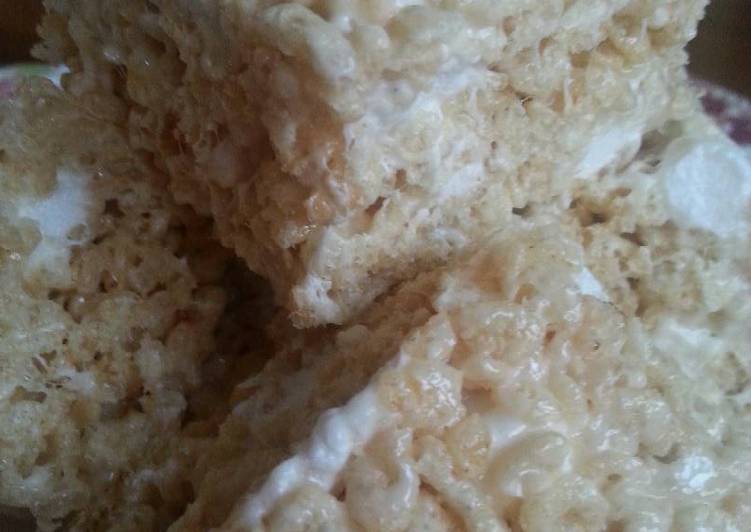 They are perfectly balanced using just the right amount of marshmallows, rice crispy cereal, and butter. Love soft, ooey-gooey rice krispie treats?? Check out my video to see my secret ingredients. You can have Best EVER Rice Krispie Treats using 5 ingredients and 4 steps. Here is how you cook that.
Ingredients of Best EVER Rice Krispie Treats
Prepare 10 cups of Crispy rice cereal.
It's 1/2 cup of butter – 1 stick.
You need 2 bags (10 oz each) of mini marshmallows.
It's 1 1/2 tsp. of vanilla extract.
Prepare 1/4 tsp. of salt.
To get the full recipe, visit my blog. A rich and luxurious recipe for crispy rice treats with extra butter, vanilla and double the marshmallows. And that's why I love them more than any other rice krispie treats I've ever had. These aren't your plain-jane, back-of-the-box-recipe crispy rice treats.
Best EVER Rice Krispie Treats step by step
Measure exactly 10 cups cereal and add to a large bowl. Set aside..
Line a 13 x 9" baking pan lined with aluminum foil. Then sprayed. Set aside..
Melt butter over low heat in a large pot. Once butter is melted. Add all but 2 CUPS Marshmallows. Vanilla , salt.cook over Low heat until completely melted. Once mixture is smooth. Add remaining 2 cups Marshmallows and stir just until incorporated. ( Marshmallows will mostly melt but those lumps that are left are going to add little pockets)..
Immediately pour marshmallows mixture over rice cereal and gently stir. Until cereal is evenly coated.press into pan . Allow to cool. Cut in squares..
The Best and Most Perfect Rice Krispie Treats recipe ever! Loaded with exact right amount of marshmallows for bakery style crispy treats! It's the best rice krispie treats recipe, because it's the perfect amount of marshmallow! Totally simple, gooey and buttery no bake recipe perfection! No more boring Rice Krispie treats!